Want more sand? This should give you your fix!
Tired of sand? This should make you numb!
Update 4.2:
Removed factories from cap-points
Replaced all elevator factories with 4-bay hangars
Fixed hangars so they don't kill you anymore
Revised cap-points
Fixed turret issues
Map needs testing!! Auto-downloader should work. Please let me know if you cannot load map after downloading through a server.
Update 3.0 (2):
tweaked some things
removed factories that would eat vehicles instead of spawning them.
Special thanks goes to Bobby for helping me out.
Update 3.0:
low-poly buildings! my FPS has risen a good 30 points
more vehicle spawn points for the main bases to alleviate heavy load issues
Two new main bases have been added to spread out large loads on the factories
two strategic points have been added to reduce giant swarms of mechs everywhere at once
selling is now enabled in the forward bases
sandbags have been reduced in size
Underground factories have been fixed some more
A couple fun features have been added to some buildings
Version 2.0
Map has been updated to include multiple building heights.
Buildings have also been moved closer together so mechs can jump between them.
The outer factories have been moved into the city
This map is based on Mektek's Assault Tech 1 map: Zoetemeer (city). This is low visibility urban combat at its best. The map is symmetrical with a visibility of ~500 meters giving brawlers an advantage but still allowing scout/sniper teams to be extremely deadly.
This map utilizes duff's converted underground mechbays – now super-improved to fix most of the previous issues. Music is from Mech 3.
Original map: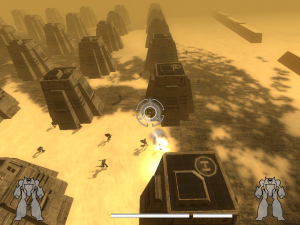 MWLL version: